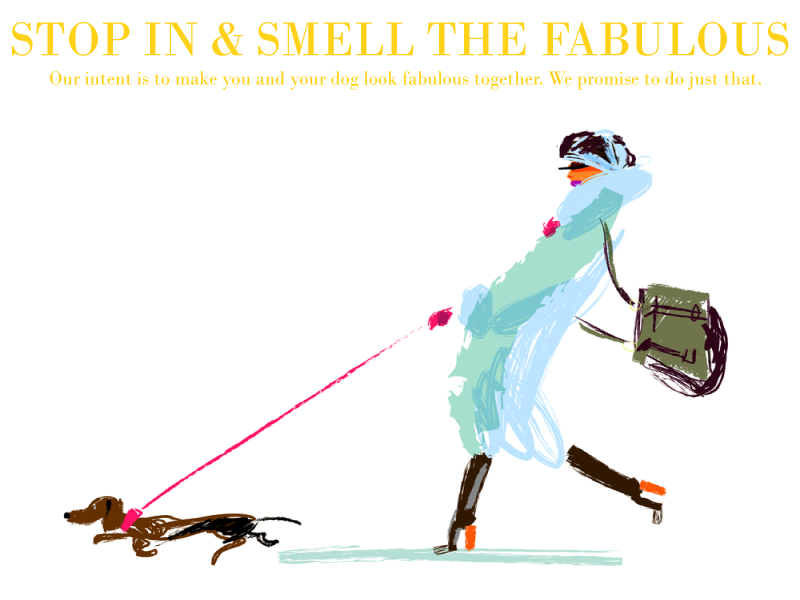 We believe women should be able to shop for stylish fashion when they drop their dog off for a spa pampering. We believe women and dogs go hand-in-hand and so we created a fabulous treat, Salon Bark, for both of them.
ABOUT THE FOUNDER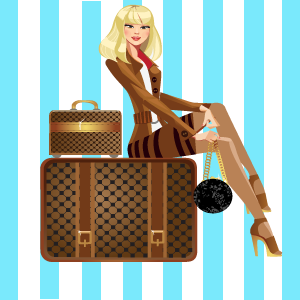 Danielle Gaudreau
, originally from Europe, is a former professional model and the founder of Salon Bark, a lifestyle boutique for dogs and their owners. After she was done modeling, her entrepreneurial spirit and her industry experience led her to start up her own agency, Hart. Danielle developed Hart into a multimillion dollar business before closing it to settle down and start a family.
Brushing elbows and doing business with celebs across the world sounds like a blast, which begs the question "Why leave that awesome life?"
Danielle's answer is because that life is a hard life.
"It wears you down," she says. "You do some things because you have to and others because you love to. I wanted to do something that involved the two things I loved most – dogs and fashion."
Salon Bark came to life when Danielle noticed an unnecessary roughness with people's furry family members in grooming salons. What began as a mobile grooming service in 2008 blossomed into a grooming salon in 2010.
By 2012, Danielle knew Salon Bark was missing a vital component – products for dogs and its owners.
"There was a void for my clients as they were getting their dogs done," Danielle says. "Clients were asking us for products – leashes, shampoos, etc."
This prompted Danielle to combine her grooming services with unique, A-list products, such as leashes, doggy perfumes, shampoos and clothes and jewelry for people. It was a year-long process – finding the right location and getting the concept off of the ground – but what started as a table and chairs setup – is now a full-service lifestyle boutique for dogs and people.
In Salon Bark's clothes, you can walk your dog or go out to eat with your dog. Everything they sell is to make you and your dog look fabulous, Danielle says.
"The days of your dogs having a nylon leash are over," she says. "Your dog is a direct reflection of you, and Salon Bark will make yours' fabulous."
THE TEAM
Social Relations

Lauren is a journalist with a marketing mindset. She studied journalism at the University of Central Florida and has written for publications across Florida, including Orlando Weekly, Orlando Sentinel and Sun Sentinel. Lauren discovered her passion for Internet marketing when she did an internship at the Sun Sentinel her sophomore year of college. Since then, Lauren has been a marketing director for a small business in Orlando and has managed a wide-variety of social media accounts for clients. It wasn't until she started working with Salon Bark that she found a niche within her passion - dogs and fashion. Lauren designed and manages the website for Salon Bark as well as helps with the social media.

Fashion Relations

A true Floridian and small town girl at heart, Brooke was born and raised on the beautiful beaches of Florida's East Coast. Brooke began her path into the wedding and event industry more than five years ago when she started working for an Orlando based catering company. Realizing she had a knack for planning, Brooke graduated with a Bachelors of Science in Event Management from the Rosen College of Hospitality Management at the University of Central Florida. Upon graduation, Brooke moved back to Fort Lauderdale. A standard for fashion, Brooke can be spotted sporting chic dresses, beautiful waves and an inviting smile. Salon Bark, where girls go to find the latest and the trendiest for themselves and their dogs, knew Brooke was perfect its boutique.

Canine Relations

Jennipher is far from your typical groomer. She has a Bachelor of Arts from the University of Alabama at Birmingham, a Master of Fine Arts from The Savannah College of Art and Design in Georgia and is certified by Merryfield School of Pet Grooming. Merryfield is requires at least 800 hours to graduate and is known as a top five grooming school in the country.

Since forever, big and small animals with hoofs and paws have been a part of Jennipher's life. An animal lover, as caring as a mother, Jennipher wants to work with animals and that is how she found herself a spot at one of Fort Lauderdale's trendiest pet spa destinations, Salon Bark. At Salon Bark, Jennipher oversees a talented team of six stylists and spa assistants.

WHY CALL THEM CRITICS? ALL THEY'RE SAYING ARE FABULOUS THINGS.


I've taken my Maltese to get groomed and they gave him the cutest cut ever!! His face just looks adorable. I also like the front section with its boutique items for me and my pooch. The organic treats section is also nice and they make custom cakes now if you're into celebrating your dogs birthday (I know I am!)

Daisy P.

I was in your shop last Friday and bought three tops and a pair of earrings at the last minute. Well.....I wore the greenish top and matching earrings Friday night in Georgia and received many compliments. My spur of the moment earring purchase even caught the eye of a waitress (and not ours). Thank you! I will be back! Also, I hope the little sick dog is still as comfortable as he can be--thank you for looking after him!

Mary W.

I love how professional she runs and keeps the place! Great job ! Keep up the great work!

Dominick Casale

Best shop ever!

Eva Ward

Maui and Gypsy loved their spa day and grooming for their birthdays. Thanks Jessica!! You made us so pretty

Carol Clay

After taking Jasmine & Tami to a popular Groomer in Davie for the last 3 years who recently cut Jasmine's belly so bad it became infected and had grossly misgroomed my girls and or claimed they were bathed when they weren't, I finally made the switch to Salon Bark today. Danielle and Joanne run a very professional and respectable establishment. When we arrived this morning Danielle took the time to write down a full history both medical and grooming and did something that no one else has ever done in the past.....she "listened". These ladies are not only personal friends but as a consumer I have to say that they provide OUTSTANDING customer service. Their Groomers did such a fantastic job and this is the most relaxed I have ever seen the girls after a grooming that I have ever seen. They look BEAUTIFUL!!!! For a GREAT experience please visit Salon Bark. You will not be disappointed. Thank you Danielle and Joanne. You Rock!!!!!!

Ian Rothenberg

Our intent is to make you and your dog look fabulous together. We promise to do just that.